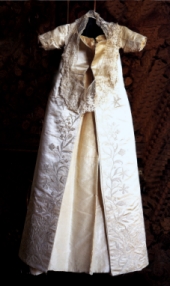 A christening gown once worn by Queen Elizabeth I has been discovered by chance during a clear-out of a Gloucestershire stately home.
The 500 year-old gown was found at Sudeley Castle in Winchcombe, by Lady Elizabeth Ashcombe while she was tidying a box of textiles in a cupboard.
The gown, worn by Henry VIII's daughter at her baptism in Greenwich in 1533, was authenticated by experts in the 1880s, yet subsequently forgotten about.
Speaking to the Daily Express, Jean Bray, an archivist working at Sudeley said: "The dress was handed down in the family, which claims descent from Henry's sixth wife Katherine Parr. It was authenticated at the Victoria and Albert museum".
It is now thought the gown will take pride of place at an exhibition in Sudeley - recently the setting for Liz Hurley's wedding - in June.
Elizabeth's connection with Sudeley started as a child and continued into her reign. She visited the 15th century castle three times as queen, notably at a feast in 1592 celebrating the defeat of the Spanish Armada.