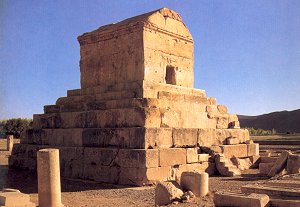 Pendar.net :
I was pleased to see that restoration of Cyrus the Great's tomb has once more resumed.
"The Tomb of Cyrus the Great, Achaemenid King who ruled over Persia from 550 to 530 BC, was surrounded again by scaffolds so that the process of restoring its stones may be resumed.
?These scaffolds will remain around Cyrus? tomb for one year to support the construction from rain and snow during this raining season before completion of the project and to ensure the safety of the building until the restoration of the stones of this ancient monument is completed,? said Reza Rezaei, the new director of Pasargadae historical complex.
Pasargadae, located 70 km north of Persepolis, was the oldest capital of the ancient Achaemenid empire, built by the founder of this empire, King Cyrus the Great (559-330 BC) on the site where King Cyrus defeated the leader of the Medes, Astyages, in 550 BC.
The tomb
was constructed
so its entrance doorway faces the sunset, as Cyrus loved the twilight view.
"
I haven't heard anything more about the production of a movie about Cyrus' life. I do hope the collaborative effort between an Iranian filmmaker and British production companies go forward.